An old word-picture has been brought up to date. Now, instead of rats leaving a sinking ship, the rats are trying to
board
the sinking ship. Why now, when marriage, like so many other millenia-old pillars of Western civilization, has been left a hollowed-out log by the forces that won't rest until a smouldering ruin has been left in place of that civilization, are those whom nature herself has barred from reproducing, squealing to be let into an institution whose
raison d'etre
is the propagation of the species? Would impatience be behind the need to accelerate the process of degeneration - petrol on the fire, as it were.
WILL CHURCH WEDDINGS BE DEMANDED?
It would be churlish not to accept that homosexuals were hard done by in the past. There is no doubt they were getting the shitty end of the stick. Like women before Feminism 1, some well-founded nagging needed to be accepted by men of reasonable mind. Poofter-bashing, for example, although a time-honoured sport was admittedly going to far. And all those tags, really not much more than gentle needling, even terms of endearment, such as windjammer, shirt-lifter, pillow-biter, carpet-muncher, freckle-puncher were apparently offensive to the more sensitive donkey-tail-pinner-onner. But of course, once the prized status of societal victim is achieved, the pendulum speeds to the other extreme. Now poofters not only object to being called poofters, they don't even like being called homosexuals. A hole exists in our language where the once delightful adjective, 'gay', once lived, but has long ago been stolen and perverted into a sweet euphemism and
de rigeur
term for homosexual. But in recompense, where one word has been lost, another has been found and that is, 'homophobia'. We've been short-changed though because this isn't a real word. If it were, it would mean fear of sameness. But never mind; propagandists don't pretend to be professional etymologists. Homosexual propagandists had been no doubt mightily impressed by what powerful,weapons words such as 'racist' - a term said to have been coined by Lev Bronstein (aka Leon Trotsky) - and 'anti-Semite' - used as a linguistic flame-thrower by a people, over ninety per cent of whom weren't Semites - were in crushing any argument no matter how well reasoned. Absolute master-strokes. Let's climb aboard.
But also like feminists, homosexuals, after their early heady victories which most people would agree were eminently fair adjustments, they were incapable of stopping there. Wasting momentum would be a criminal act. And for homosexual activists, to not keep the momentum rolling would effectively evaporate their
raison d'etre.
They'd be psychiatrists without crazy people - lawyers with crims all deciding to go straight. And dare it be said, would it be possible that people existing in the darkness behind the screen with their own agenda and fully aware of the societal destructiveness of what was being unleashed, with money and power, be only too determined to see sickness accepted as health pumped into a healthy society beginning to be seen as homophobic and therefore sick. But no, that's silly. That would be some kind of conspiracy theory. And I never mentioned the Protocols. But you've got to wonder. Even though freckle-punching is highly fashionable these days, why are the media and cinema so enthusiastically causing us to gag on it? How about those two lovable queers who are part of TV's 'Modern Family'? That's progress. It's modern. You'd have to be a bit of an old fuddy duddy to look askance at that. More cutting edge is the part-time tranny brother of Louis the fourteenth in the sleek British TV series, 'Versailes'. He spends an inordinate amount of time in bed locking lips with his flaming,
sans
vagina paramour. Get used to it. Just as you may have finally gotten used to the huge number of TV and cinema productions loaded with gratuitous and graphically portrayed heterosexual sex, brace yourself for the just as graphic homosexual stomach-churners coming down the pipe.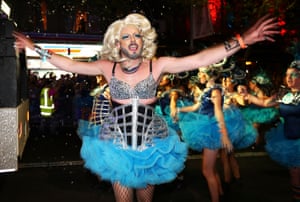 Why would that be, you may well ask. It's because the activists, their backers, leftists to whom homosexual marriage is an article of faith as well as know-nothing do-gooders will not rest until homosexuality is accepted as perfectly normal - as normal as being left handed which was once seen as sinister. This won't quite work until the intellectual descendants of Bernays, nephew of Freud and father of modern mind-twisting, have succeeded in training the bunnies to think about homosexuality with the most salient part of the mental picture blacked out. The redaction carefully obliterates what homosexuals get up to. As long as the Modern Family homosexuals aren't actually seen getting up to anything - being in fact almost platonic, all is well with the world. But if one were to think about one of them actually sticking his dick into the other's anus, well then, perhaps it wouldn't seem quite so normal. Lesbians playing stink-finger and tongue-in-groove just doesn't seem anywhere near as disgusting - especially to men, probably millions of whom get off on girl-on-girl porno. This could be the reason for generous servings of television and cinema lesbian sex: it's being used to soften us up for the stomach-churners coming down the pipe.
Oddly, in the all-consuming, government-paralysing soap-opera that the quest for homosexual marriage has become, the cart has been placed before the horse, or perhaps it's simply an illustration of how meaningless marriage has already become. In all Australian states except the Northern Territory, adoption of children by homosexual couples is already legal. Surely here, the 'normality' that homosexuals crave was already being bestowed on them by a society bending over backwards to please them, and in so doing, caving in to supreme selfishness. Before this, with adoption already being a minefield of major complexity, the best interests of the child were considered paramount. But this in fact was what was being sacrificed with homosexual adoption. The interests of homosexuals would come first. Contrary to the bland assertions one one might find on politicised faux information sites such as Wikipedia, a mountain of data exists showing outcomes for children lacking either a mother or father, not even necessarily in homosexual families, are markedly less successful than those for children raised in conventional, two parent families. Quadrant Online has done a bang-up job of garnering the
facts
relating to the less than promising futures of children raised by homosexual parents. http://quadrant.org.au/opinion/qed/2017/08/children's-welfare-sex-families/ A shocker given here is that, contrary to what has already been asserted here in regard to homosexuals not being able to reproduce, perhaps they have in fact found a way to trick mother nature. The jury's in and the verdict is that children who are raised by homosexuals have a far greater chance of becoming homosexual themselves than children raised by heterosexuals.
So with child-sacrifice being already made at the alter of homosexual worship, one could not be blamed for thinking perhaps that that would be just about the ultimate in giving homosexuals what they want. It probably was. How could you go past trusting homosexuals with what was most valuable and vulnerable to show that they were perfectly normal? That you can't is the eye-opener needed to show that normality can't be provided to those who will themselves never feel or believe in their own normality. Psychiatrists call this projection - the projecting of one's own beliefs onto others. This occurs when the neurotic assumes that others share the same negative beliefs about him as he does himself, resulting in hostility toward those he assumes harbour ill will toward him. Of course homosexuals, if they're not completely stupid, know they have been dealt a lousy hand, that homosexuality is in no way normal, and trying to convince everyone else, including children that it is normal will never make it so. (There's always that haunting image of a dick in a man's arse.)
So on it goes. By gaining 'marriage equality', a ridiculous misnomer if ever there was one, marriage being
by definition
between a man and a woman, the final measure in acquiring normality: having homosexuality socially accepted - an expectation fraught with potential disappointment - and proving that society really loves them after all will still fall just short of that shimmering mirage. That will mean regrouping, new strategy and a new chase in achieving that elusive goal. Where will it end? Where can it end? Perhaps like feminism in rectifying what was patently wrong but then soaring far past that to a world where it was
men
who were inferior and to be despised, it will be the 'breeders', as homosexuals refer to their opposites as, who will be expected to take on the role of the sick and unnatural. In a world that becomes more ridiculous every day, that's not outside of the realms of possibility.
But if the institution of marriage seems to be on its last legs anyway, why worry. Probably because if homosexual marriage becomes law, it will be the
coup de grace;
marriage will be meaningless. But this is probably what the real agenda demands, family being one of the four pillars that need to be taken out before a society collapses, the other three being RACE (being taken care of by mass immigration and miscegenation), NATION (check your watch for the arrival time of world government) and RELIGION (Christianity under attack from all quarters while Islam penetrates more deeply and widely while molly-coddled and apologised for by self-hating useful idiots).
However, if against all odds, western societies can recover from the usually fatal sickness of liberalism, and the institution of marriage hasn't been completely destroyed, perhaps future generations will have at least a foot-hold from which to begin the long climb back to health and sanity.